In March of this year I penned some bullish thoughts on Hewlett Packard Enterprise (NYSE:HPE), renewing an optimistic call I had made a little more than a year earlier. Though HPE shares were up 35% from my first look, they've gone exactly nowhere in the meantime (though they did make a couple of false starts since then).
Despite the tractionless sideways movement in the meantime, I stand by my opinion voiced at the time… a handful of acquisitions and partnerships gave Hewlett Packard Enterprise some marketable technologies it simply didn't have before. While most of these newly-garnered technologies like better networking switches and hybrid cloud computing won't mean much to the average consumer, in the enterprise arena that HPE is targeting, they mean a lot. It's just going to take the company time to push these products all the way through a very slow purchase cycle.
With time and reason to take note of what's changed in the meantime, however, I'm inclined to wonder if I hitched my wagon to the wrong star. That is to say, while the enterprise-scale tech market is still a compelling one, the consumer market Hewlett Packard (NYSE:HPQ) — now referred to as HP — is taking aim at may have become the more attractive of the two.
HPQ shares are sure acting like that's the case anyway.
PC Market Turning the Corner… Slowly
The short version of a long story in case anyone reading this doesn't remember: Hewlett Packard split into two companies as of November 2nd of 2015. Hewlett Packard Enterprise took its business class customers and products, save printers, while HP was formed to deal with individual consumers, though it would still market printers (including 3D printers) to enterprise-level customers. Then-CEO Meg Whitman felt more focus would help both sides of the table, especially in light of the fact PC demand was still in the throes of a long and agonizing contraction. She took the helm of Hewlett Packard Enterprise, and left Dion Weisler holding the bag as CEO of the new HP.
I sided with Whitman, though in retrospect Weisler may have been the better bet for investors.
First and foremost, don't bother trying to get a bead on HP's recent and future results relatives to the not-so-distant past. Between the split and a handful of acquisitions and divestitures since then, obscuring any clear trajectory for the organization's business. The most relevant picture of HP's business comes from its fiscal Q3 presentation deck prepared by the company itself. On the most apples-to-apples basis possible, HP has driven four straight quarters of revenue growth, and while earnings growth has been hit and miss, the trajectory since the split is still clear.

Source: HP Q3-2017 Earnings Presentation
Last quarter, year-over-year sales for both its printing division and its personal computing arm were up, 6% and 12%, respectively. The pros expect more of the same kind of modest growth for the quarter currently underway, as well as for all of next year.
That's not the crux of the bullish case for HP right now, however.
Between Donald Trump's contentious start to his Presidency and a spate of distracting market-related news, it would have been easy to miss that this year's Q1 PC sales were up year-over-year for the first time in years. They were only up a tiny bit, and some estimates suggest they still fell, but all agreed we were seeing a positive tidal shift underway for the computer market that had buckled under the rise of smartphones and tablets. Sales of personal computers faltered again in the second quarter, but not for HP. It logged a fifth straight quarter of PC sales growth in calendar Q2, reclaiming its top spot in terms of PC market share.
While the PC market outlook for the foreseeable future is tepid, on average, most observers may be underestimating the future.
Forced Upgrades
In simplest terms, we may be on the verge of a supercycle of computer upgrades that has been postponed for years now, with Windows 7 machines still working "good enough" for most, and with Windows 10 being offered as a free upgrade to Windows 7 and Windows 8 users. Even older Windows 7 computers can more or less handle Windows 10's operations.
That may not be the case for long, however.
While there's not yet any glimpse of what may well be called Windows 11, clearly Microsoft is always developing software that offers more functionality and power to a computer. The next iteration of Windows (and bear in mind Windows 10 is now over two years old) may not function on PCs and laptops built for Windows 7. Then, in a Windows 7 environment, 8 GB of RAM was considered plenty. Now, 8 GB worth of memory is a minimum.
There's also the not-so-minor matter than Microsoft (NASDAQ:MSFT) will be ending support for Windows 7 altogether in early 2020. Some organizations and individuals will continue to use the aging OS beyond that date, though some won't. Most will be forced, if not be sheer wear and tear, to replace computers and laptops that are now between five and eight years old. Smartphones and tablets still can't fully replace laptops and PCs. Indeed, just this week HP announced a new Elite 1000 Series and collaboration tools co-developed with Microsoft, offering users something worthy that their older hardware can't. These are true next-generation PC's and laptops.
HP has already proven it's still the king of this market, displacing Lenovo.
3D Printing
In the meantime, while the 3D printing revolution has failed to live up to 2009's hype, it is underway, and HP is a key player in that movement.
Recent outlooks suggest the entire 3D printing market (printers, materials and services) will be worth nearly $33 billion by 2023, growing more than 25% per year between now and then to reach that mark. It's a lofty target, though achievable in light the industry's current pace and ongoing adoption of said technologies.
And, HP is leveraging its size and name to remain on the cutting edge the 3D printer era. It and Siemens have developed a printer/software combo that will further usher in production-scale, industrial-caliber 3D printing. It's also teaming up with Deloitte to sell 3D printers, tapping into Deloitte's relationships with industrial names — relationships HP simply doesn't have on its own.
It's also worth noting that not only are the relationships with Deloitte and Siemens new, HP itself only began selling 3D printers late last year, and has yet to reach full speed with their production, let alone marketing them. The bulk of HP's 3D printing growth lies ahead of it, though most investors don't fully recognize how new the company is to the market.
Analyst outlooks indicate expectations for growth, though arguably underestimates the growth opportunity at hand.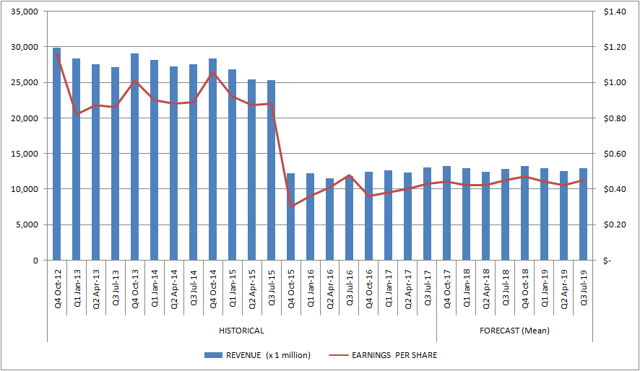 Source: Thomson Reuters, image made by author.
Bottom Line
A bulletproof pick? No, like most other companies in the PC business and the few companies still in the printer business (3D or otherwise), HP has plenty of work to do and several more curve balls are sure to be thrown its way. But, with a trailing P/E of 14.1 and forward-looking one of 11.1, there's more than enough value packed in here to call HP a worthy risk.
That said, the value HPQ offers at its current price of $19.47 may be about to evaporate quickly.
While a trade in HPQ now is simply in the most basic sense a move into a reliable uptrend that's been in place since early 2016, a ceiling has also developed at $19.60 where shares peaked in May and have yet to move above despite a handful of attempts. The fact that the bulls continue to put pressure on that resistance, however, is telling.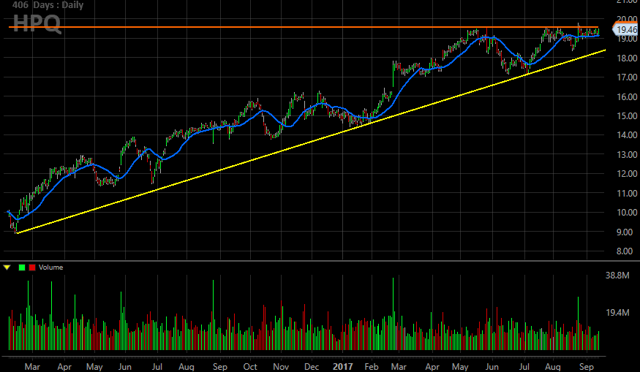 Source: Schwab StreetSmart Edge
It's not an ideal time to be buying anything. September should be a bearish month for stocks, and it's not been yet. And, September or not, the broad market is overdue for a sizable correction. I'd rather buy on a dip. That dip is anything but a foregone conclusion at this point though; we have to trade what we see. Indeed, if the stock pops past the resistance at $19.60, I can see a nice meltup unfurling.
Either way, I view this as more of a long-term investment rather than a trade right now, despite the short-term trading implications evident in the chart. Don't let the pullback we're bound to see sooner or later spook you too much, though do draw a smart line in the sand. The rising support line (yellow) that extends back to the early-2016 low would be a good stop-loss level.
Whatever the case, I can see HPQ reaching and even exceeding the consensus target of $21.75 soon. My stretch target is $24.00, where the forward-looking P/E would still only be a palatable 13.6. A straight-line move to that mark is very unlikely, however.
Disclosure: I/we have no positions in any stocks mentioned, but may initiate a long position in HPQ over the next 72 hours.
I wrote this article myself, and it expresses my own opinions. I am not receiving compensation for it (other than from Seeking Alpha). I have no business relationship with any company whose stock is mentioned in this article.